Enchanting East Africa
Booking Dates
12/10/2022 through 12/20/2023
Travel Dates
08/02/2022 through 12/31/2023
Provider
African Travel Inc.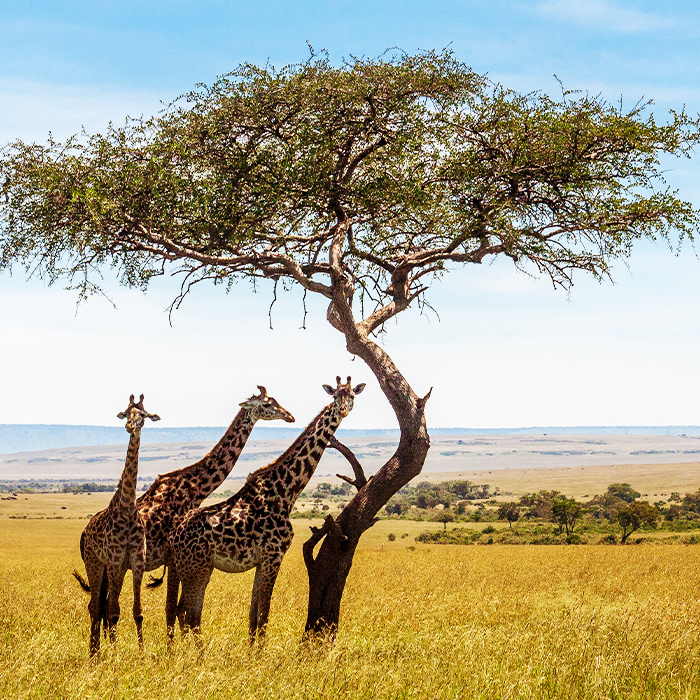 Enchanting East Africa
This quintessential East African safari roams the game-rich grassy plains of Kenya's Maasai Mara and Tanzania's Serengeti in search of predators and prey. Unique locations and lodging are followed by a blissful seaside stay on the exotic island of Zanzibar.
Explore the wildlife-rich plains of the Maasai Mara – Kenya's premier game reserve and home to all of the big five.Discover the spice island of Zanzibar – the perfect place to unwind at the end of a safari.Experience the magic of the Serengeti, and enjoy direct access to the wildlife and bush from your luxury camp. Don't miss the Bushcraft Challenge.Enjoy an unparalleled experience with the giraffes vying for your attention at the breakfast table, the front door and even your bedroom window.
1. GIRAFFE MANOR, Kenya, Nairobi
2. SALA'S CAMP, Kenya, Masai Mara
3. ROVING BUSHTOPS, Tanzania, Serengeti National Park
4. ELEWANA KILINDI ZANZIBAR, Tanzania, Zanzibar
| Day | Description | View All |
| --- | --- | --- |
| Day 1 | Arrive Nairobi, Kenya | Details |
| Day 2 | Nairobi | Details |
| Day 3 | Nairobi / Maasai Mara | Details |
| Day 4 | Maasai Mara | Details |
| Day 5 | Maasai Mara | Details |
| Day 6 | Maasai Mara / Serengeti | Details |
| Day 7 | Serengeti | Details |
| Day 8 | Serengeti / Zanzibar | Details |
| Day 9 | Zanzibar | Details |
| Day 10 | Zanzibar | Details |
| Day 11 | Zanzibar / Depart | Details |