15 Day Vietnam, Cambodia & Thailand Signature
Booking Dates
12/18/2022 through 12/14/2023
Travel Dates
05/03/2019 through 12/31/2023
Provider
Kensington Tours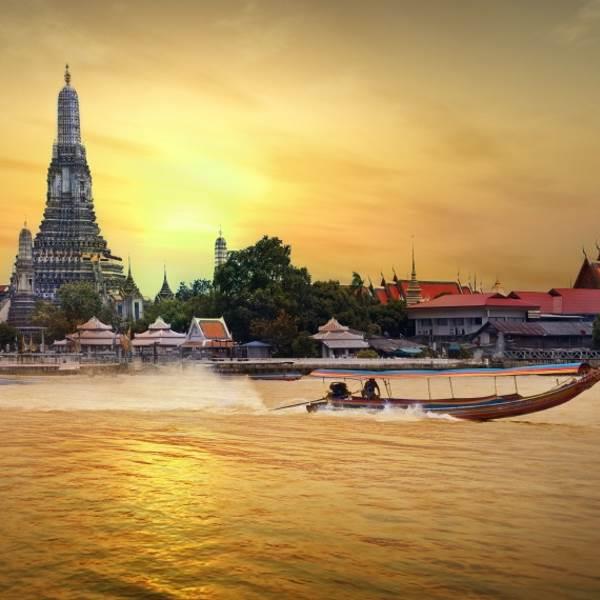 15 Day Vietnam, Cambodia & Thailand Signature
Southeast Asia is a compelling part of the world, perhaps best known for its blindsidingly beautiful scenery, friendly people, and spicy food. But once you adjust to its obvious surface appeal, it starts to reveal its true self a layer at a time. Shaped by Buddhist tradition, colonial influence, and a quiet-yet-determined resilience, the understated magic of Vietnam, Cambodia, and Thailand rewards those who go looking for it. A museum exhibit can only scratch the surface; to really understand it, you must experience it – walk the streets, elbow your way through the markets, center yourself in a golden temple, feel the breeze of the bay in your hair, gaze into the eyes of an elephant. Once you feel it, you'll know. And you'll never be the same.
This compelling best-selling trip taps into that feeling at every turn. In Hanoi, you'll receive a full appreciation for Ho Chi Minh, the Vietnamese revolutionary turned folk hero, on a revealing look into his life and a private tour of the French colonial atmosphere of the city that shaped him. Later, take a cruise around beautiful UNESCO World Heritage Site Halong Bay and then learn about the fascinating history of Ho Chi Minh City on a range of curated tours that focus on historic architecture, wartime history, and enjoying the unexpected-but-vibrant craft beer culture in the city.
Move west into Cambodia for private tours of majestic Angkor Wat and Siem Reap's famous Roluos temples and Buddhist monasteries. Pose for a photo, nose-to-nose with the smiling faces of Bayon temple. In northern Thailand, come face-to-face with gentle giants at the world's first elephant rehabilitation hospital, then spend a full day learning the intricacies of traditional Lanna cuisine in the private comfort of a local family's home.
Last stop: bustling Bangkok. Here, you'll discover the culinary delights and vibrant atmosphere of the city's 200-year-old Chinatown at night, then explore the quiet temples and canal-like klongs (the latter via longtail boat) on an eye-opening full-day tour.
Kensington Tours creates private trips from the world's finest ingredients. Tailor-made with care by your personal Destination Expert, your personalized trip is always a one-of-a-kind experience made just for you. Expert local guidance and 24/7 service come standard.
| Day | Description | View All |
| --- | --- | --- |
| Day 1 | Hanoi To Welcome | Details |
| Day 2 | Hanoi | Details |
| Day 3 | Hanoi To Vietnam To Halong Bay | Details |
| Day 4 | Halong Bay To Hanoi To Ho Chi Minh City | Details |
| Day 5 | Ho Chi Minh City | Details |
| Day 6 | Ho Chi Minh City | Details |
| Day 7 | Ho Chi Minh City To Siem Reap | Details |
| Day 8 | Siem Reap | Details |
| Day 9 | Siem Reap | Details |
| Day 10 | Siem Reap To Chiang Mai | Details |
| Day 11 | Chiang Mai | Details |
| Day 12 | Chiang Mai | Details |
| Day 13 | Chiang Mai To Bangkok | Details |
| Day 14 | Bangkok | Details |
| Day 15 | Bangkok | Details |